Empty Seven
Talk

0
36pages on
this wiki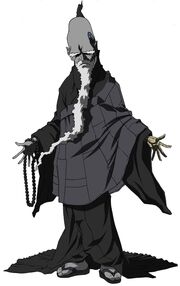 The
Empty Seven
are an organisation of Assassin Warrior Monks who seek to claim the Number Two Headband and then the Number One headband so that they may ascend to Godhood and immortality. The Empty Seven are actually six monks, Brother Seven, if he exists, has not been revealed though theories circulate he may be
Dharman
or will appear in Future Afro Samurai Series. The Empty Seven are fairly weak and have inferior fighting abilities compared to some of Afro's other opponents, but they are fairly wealthy and able to fund the development of The
Afro Droid
and
Kuma
Brother 1
Edit
Brother 1 was the apparent Leader of the Empty Seven though this is never outright stated. Like Brothers 2-5 is a wizened old man who has a golden prosthetic arm which can turn into a machine gun and a tattoo on the left side of his head which reads Number 1. His personality and manners are a mixture of a preacher and street pimp, mixing evangelistic speeches with street vernacular. He was almost always seen with a beautiful lady by his side. Brother 1 often made bold proclamations to a large number of the Empty Seven's followers and to his fellow Monks.
He attempted to ambush Afro on the lift on his way up to top of Mt. Shumi, but was unsuccessful and was himself beaten by Afro. He appears again in Afro Samurai resurrection having been left Paralyzed by his fight with Afro, he was rescued by Brother 3 making him the only Monk to battle Afro and survive.
Brother 2
Edit
Brother 2 was the Empty Seven's eyes on the battlefield, keeping track of Afro's progress towards Mt. Shumi. He spied on Afro using a high tech pair of binoculars, though he was not very stealthy in his first appearance as he was spotted by Ninja Ninja while spying in a tree and reporting to Brother 1 via cell phone. Brother 2 accompanied by Brother 6 bare witness to Afro's battle against Soshun. He angrily yells out to Brother 6 for engaging Afro and possibly destroying the Sacred Number 2 Headband. When Okiku turns against the clan and tells Afro what she has been doing Brother 2 angrily impales her on an extended Buddhist staff or Kunai for her betrayal while one of the Cyber Ninja retrieves the Chip with Afro's fighting Style on it.
Brother 2 continued to spy on Afro when he Reached Mt. Shumi and watched his first battle with the Afro Droid along with the rest of his Brothers. When spying on Afro further up on the Mountain and planning to ambush him, Brother 2 himself is ambushed by Afro who gouged out his eyes and forced the binoculars into his sockets, likely killing him in an act of vengeance for Okiku's Death.
Brother 3
Edit
Brother 3 is the most laid back of the Empty Seven and was content to stare away from the group while they planned Afro's Death. He is seen wearing a headset with the number 3 on it and bobbing his head to the music. He rarely speaks, but when he did he is revealed to have a southern Accent. He is quite pacifistic and often suggests non-violent alternatives. He attempted to peacefully get the headband by offering Afro tea and rice crackers while chanting headband please in Japanese, though Ninja Ninja helped himself to the tea, Brother 3 was ignored by Afro.
After the first season it is revealed Brother 3 saved Brother 1 who is now paralyzed and in a wheelchair and attempts to cheat in a game against Afro to have him killed likely in Revenge for the deaths of his fellow Clan members since Afro didn't have any of The Headbands but he fails after Afro exposes him as a cheat and i then forced to reveal what he knows about the new Number 2 in order to save his life.
Brother 4
Edit
Brother 4 is a wizened old monk, like most of the Empty Seven, with his most distinguishing feature being a large metal hat with the Number four on it. He wore a Green robe and usually carried his Sansetsukon. Brother 4 had a deep gruff voice and was often accompanied by Brother 5.
Brother 4 is killed alongside Brother 5 after both attempt to fight Afro following the defeat of Brother 6.
Brother 5
Edit
Brother 5 looked the same as Brothers 1-4, but wore a white robe and had a high toned voice, as well as having the the Number 5 tattooed onto the left side of his head. His preferred weapon was the Jian. Brother 5 was a smoker and normally smoked using a long pipe.
Brother 5 was killed alongside brother 4 after both attempted to surprise Afro by jumping out of Brother 6's backpack following his defeat.
Brother 6
Edit
Brother 6 was a large monk who wore regular monk's garb along with a large metal hat with the number 6 on it. He is the youngest member of the Empty 7 and the only one who didn't resemble the others. Like the rest, Brother 6 had a tattoo of his number, 6, on the left side of his head. Brother 6 wielded a long Buddhist staff made of metal and was prone to using excessive force: in his first encounter with Afro he pulled an RPG launcher from his backpack and fired it, even though using it might have destroyed the Sacred Number 2 Headband. His missile failed to kill Afro, who managed to slice the missile in half and barely avoided being killed by the blast, falling from a cliff. Brother 6 also had a Flamethrower in his backpack which he used to burn down Okiku/Otsuru's House.
He used his RPG launcher again after Afro defeated the Afro Droid for the first time on the bridge. When his attack failed, Brother 6 fought Afro one-on-one but was bested. When Afro jumped and used the roof to right himself and deliver a Fatal blow from his shoulder through his heart and down to his waist, he held Afro's blade so that Brothers 4 & 5 could finish Afro off.
Brother 6 is also the one who saved Otsuru and Jinnosuke from the brink of death, but believed it might have been better to let Jinno die.